Which adjustments are made due to the Corona situation?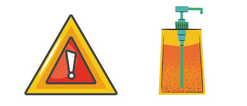 SwedenExperienceTours offers first and foremost privately guided tours. So you don't have to worry about big groups. In case you participate in an event with other people we will take great care of providing the space for everyone to keep the recommended safety distance.
Any participants showing symptoms that can be related to an infection with the Corona-virus will be excluded from the tour!
Hand sanitizer will be provided throughout all tours and activities, so you can desinfect your hands whenever you wish.
Most activities are taking place outdoor and therefore inherently involve a lower risk of infection.
How can I book a tour?
Please
contact
me by email or phone.
Which dates are available for which tour?
First of all there are no pre-determined dates. Please
contact
me to book your desired tour on the day of your choice, if this day is still free. You can check the availabilities in the calendar, in which booked tours as well as courses and workshops are registered.
Can I book a private tour?
Yes, you can choose a given tour or even ask for a special combination adapted to your wishes. This might be a hike combined with the visit of a museum or castle.
Don't hesitate to ask for your dream-tour! We will agree on the price according to the services the tour includes.
Can I combine different tours?
Yes, I will do my best to meet your personal wishes. Please contact me for availability and prices.
What payment options are available?
You can pay in cash (SEK or €), with Swish (SEK) or via PayPal.
How can I cancel a booking?
You can cancel a booking by phone or email.
Please note the cancellation fees as namend in the
Terms and Conditions
.
What should I bring with me on a hike?
The physical fitness for the tour selected by you




Sturdy and fitting footwear




Rain gear




Drinking and possibly eating



What should I bring to the forest bath?
Warmer clothes than for a hike




Sturdy and fitting footwear




Rain gear




Drinking and possibly eating



Do the tours take place in all weathers?
The tours take place in (almost) any weather. In case of extremely bad weather, however, changes can be made. Please be equipped according to the weather conditions. In case of doubt please
contact
me.
Should I have a travel insurance?
You should always have your own travel and medical insurance. Make sure that your insurance also covers corona related problems.
Where can I find information about passport and visa for Sweden?